This range is no ordinary Australiana fabric collection. Illustrated by our Australian designer
Annette Winter
, these designs are inspired by the Australian fauna and flora and our fantastic cultural heritage. Australiana imagery is becoming more and more popular, and these trends are beginning to show up in craft. If you're seeking to incorporate the Australian feel in your quilting, we have the range for you.
Annette Winter Designs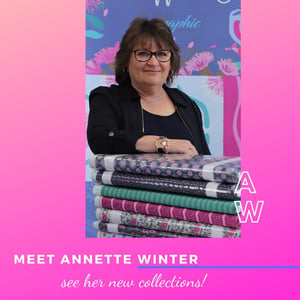 From a hand drawn illustrator to a vectorised pattern, Annette Winter creates and brings us jauntily and fun Australian prints. She has a passion for creating stylish, modern pattern designs and see them come alive on all sorts of products like cushions, scarves, quilts, apparel and also designs for printed stationary and promotional items.
Annette Winters new collections include:
- Burrangong Farm
- Vibrant Blooms
- State Florals
- Living Coral
- Native Bouquet
Burrangong Farm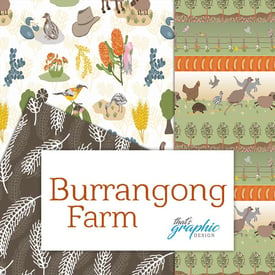 The main pattern is full of cute farmyard animals and native flora and fauna with simple co-ordinating wheat themed designs.
The large 36" x 44″ panel epitomizes life on a rural property. The homestead with it's welcoming lights, big verandah and flower garden is central to the scene. The flourishing veggie garden complete with a scarecrow has pride of place in the backyard along with the Hills Hoist, rainwater tank, hay shed and tractor. To complement the range is also border fabric which includes a few different designs, the cutest being the animals having a race.
Vibrant Blooms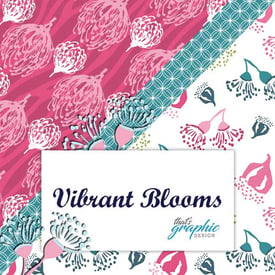 Nature sure isn't boring and this fun fabric collection reflects Aussie flowers in vibrant lime green, pinks and aqua as well as a dark navy that makes things pop!
Funky gumnuts, pinwheel proteas, bottlebrushes and subtle flowering gums feature in this hand-drawn range which would be ideal for any project where you want to relay a happy, bright and modern feel.
State Florals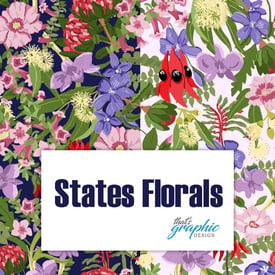 A special garden fabric, filled with handdrawn flowers which include all the Australian States floral emblems. The design has a feminine Liberty style look and includes vibrant red Sturt's Desert Peas, nodding Cooktown Orchids, sweet Tasmanian Blue Gums, delicate Sturt's Desert Roses, elegant Kangaroo Paws, magestic Waratahs, dainty Royal Bluebells and Common Heath that weaves it's way throughout.
Living Coral
A modern and fresh fabric collection, inspired by Pantone's Colour of the Year for 2019, Living Coral, which has been teamed with crisp grey and white. The hand-drawn designs include a lovely mix of Aussie flowering gums, vibrant daisies, seedpods and abstract leaves which work together seamlessly with the blenders, giving you a very versatile range for quilts, beeswax wraps, apparel and home decor projects.
Native Bouquet
Annette Winter's Native Bouquet collection, is a hand-drawn work of art which has then been digitally enhanced to create a varity of gorgeous fabric prints! The collection features a beautifully arranged bouquet of sweet Australian wildflowers and birds including a variety of sweet Gum Blossoms, Protea, the Kingfisher and the gorgeous Galah plus more. It's a Native Bouquet!
We hope you enjoy watching this video exploring our Australiana Fabric Range.
Annette Winters Fabrics are 100% quality cotton with an even density, little to no stretch and excellent printing. With a fun range of on-trend colours and styles, you and your customers need not look anywhere else. You can see the difference with just one look or touch! Check out our Annette Winter Fabrics below.