---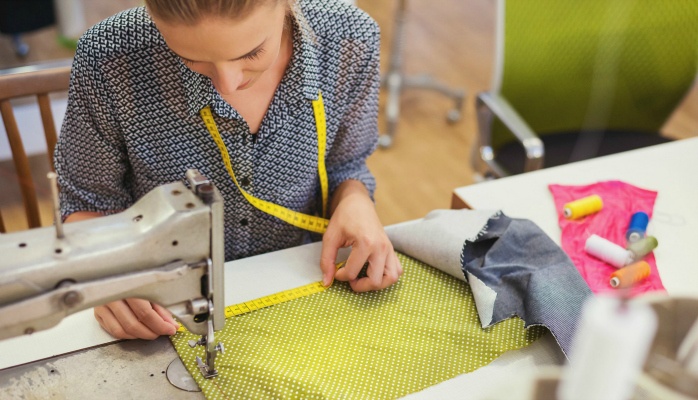 Looking back on where the craft of sewing began, when it first started and what it has become today, we see it plays a vital role in our daily lives, primarily for clothing, home furnishings and textile industries.
Sewing is a simple process of stitching pieces of fabric together with needle and thread by hand or using a sewing machine – a method used every day by millions of people worldwide, at this very moment.
Clothing and other handmade items sewn at home allow us to create unique projects that suit perfectly, fit and wear better, match better and have a bucket load more individuality than ready-made products.
Sewers work with a variety of fabrics, depending on their textile industry. Some fabrics including cotton, linen, silk and wool are predominantly used in sewing. There are many kinds of stitches that are used depending on whether you are sewing by machine or by hand. Hand Stitches include Running stitch, Basting Stitch, Blindstitch, Overcast Stitch, Catchstitch, just to name a few. Sewing machines come with a whole batch of stitches. The main ones you will use the majority of the time while sewing are Straight stitch, Locking stitch, Zigzag stitches, multiple Zigzag stitch, overcasting, Blanket Stitch, Knit stitch, Blind stitch, basting and embroidery stitches, and many more. New sewing machines are providing us with a vast range of decorative stitches immediately available at the press of a button!
Giving your project the cutting edge
Experienced sewers and beginners understand how important the cutting stage of a sewn project is for it to be a success. For patchwork, dressmaking and furnishings, it is essential for fabric to be cut correctly. Most pieces will align with the lengthwise grain, particularly in dressmaking – that is, the vertical threads of the fabric which run parallel to the selvedges. For patchwork pieces, either grain is acceptable due to the small size of each piece. Bias pieces are laid out diagonally across the fabric grain. Cutting across or with the grain ultimately affects how the fabric will hang or provide strength, or to minimize fabric wastage.
When sewing for patchwork, always cut with a rotary blade on a grid cutting board, and a straight gridded ruler. This ensures your patchwork pieces are cut out at accurate measurements and given a straight edge.
Just as every quilter admits, a day spent sewing is always a good day. Ask not what your fabric can do for you, but what you can do for your fabric!
---
If you're starting up a new handmade sewing business and you're looking for a wholesale quilting and fabric supplier that provides patchwork and quilting fabrics to suppliers and retail stores across Australia, speak with the friendly team from Kennard & Kennard today.
Kennard and Kennard have been an iconic wholesaler in the textile industry for over 60 years and are a top supplier of quilting and patchwork fabrics for businesses across Australia. Get in contact today to have a chat with our experienced team to find out more tips on how to start a fabric retail business or for advice on our wholesale fabric range.
---