Kennard & Kennard are excited to introduce a range of new and trending designer fabrics by De Gillett Cox. These collections add a twist to the usual, featuring a variety of skillfully hand painted designs printed on fabric! De's art is exceptional and brings something stylish and different to our Australiana fabric collection.
Check out De's website https://www.degillett.com.au
Meet De...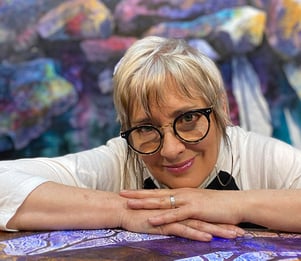 "I am a painter who celebrates joy and abundance, working in acrylics and mixed media on huge linen canvases.
My style has changed significantly over the last 18 months, since I discovered the glorious glowing transparency of working negatively. My first subjects in painting, many years ago, were birds in flight, and capturing that movement is still a focus. These days I find myself captivated not only by Australian native birds, but also by light in the landscape, and pursuing abstraction with elements of both. I am often intrigued with trying to capture the non-visual elements of my subject, such as sound, movement or emotion.
Colour is my main passion and thus the building of harmonious, lyrical passages of colour is my chief concern. My process is very layered, and exceedingly wet. Most of it happens on a tabletop rather than an easel, to allow the paints to mingle and flow. There are often day-long delays while I must wait for things to dry before proceeding. Transparency is key, and I use opaque colour sparingly to contrast against the glow. I design, make and use many different stencils to build a textured, impasto surface, which I then develop with washes and glazed to maintain the all-important transparency.
I insist that my paintings be beautiful, and that beauty be celebrated in these digital transitions from canvas to fabric with Kennard and Kennard."
De has started with two gorgeous collections. Lorikeets Aloft and Cockatoo Chatter. These two beautiful vibrant collections are perfect for a range of sewing projects and are sure to brighten your day!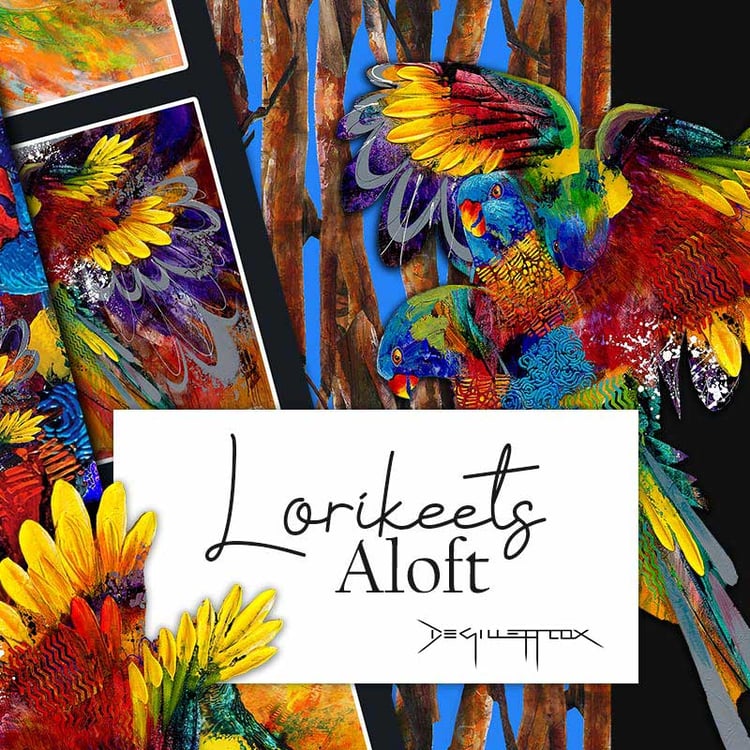 Feel the wind beneath your wings as you fly aloft with the cheeky, rowdy birds of "Lorikeets Aloft". Featuring many of Australia's native lorikeets in all their feathered glory.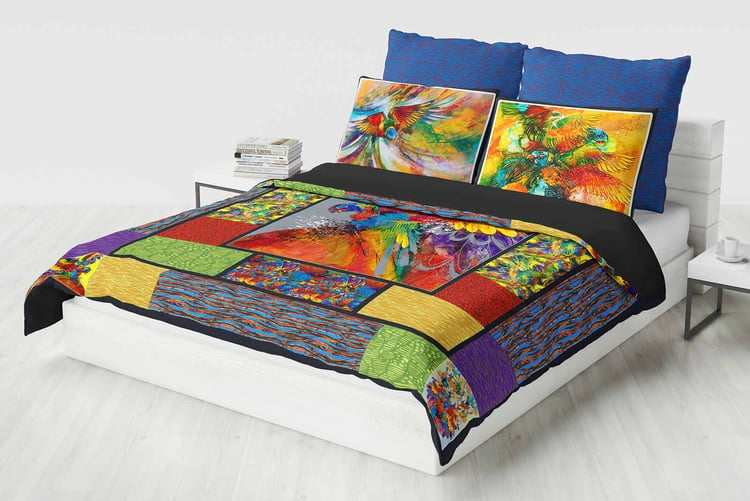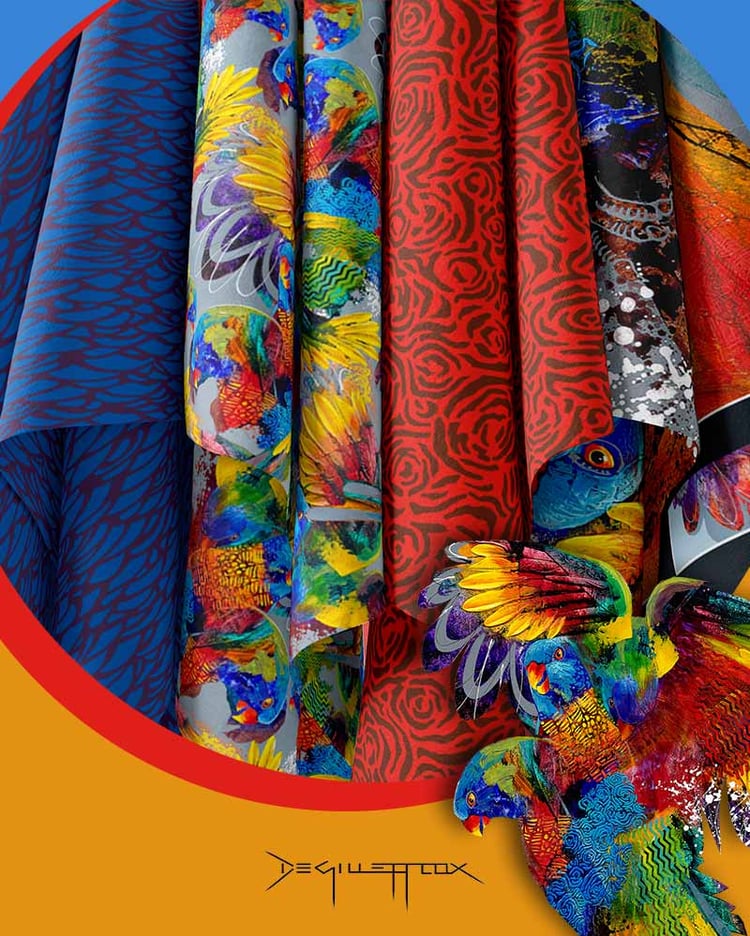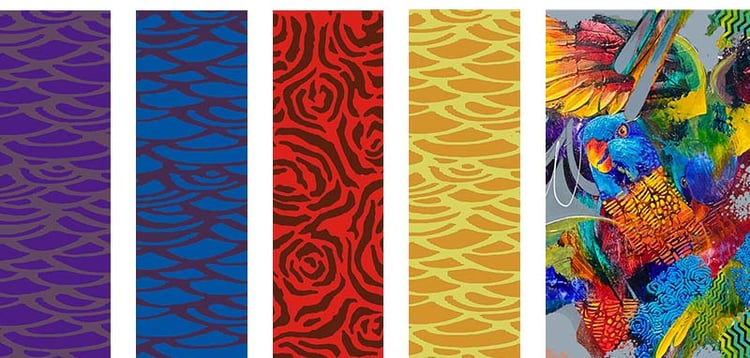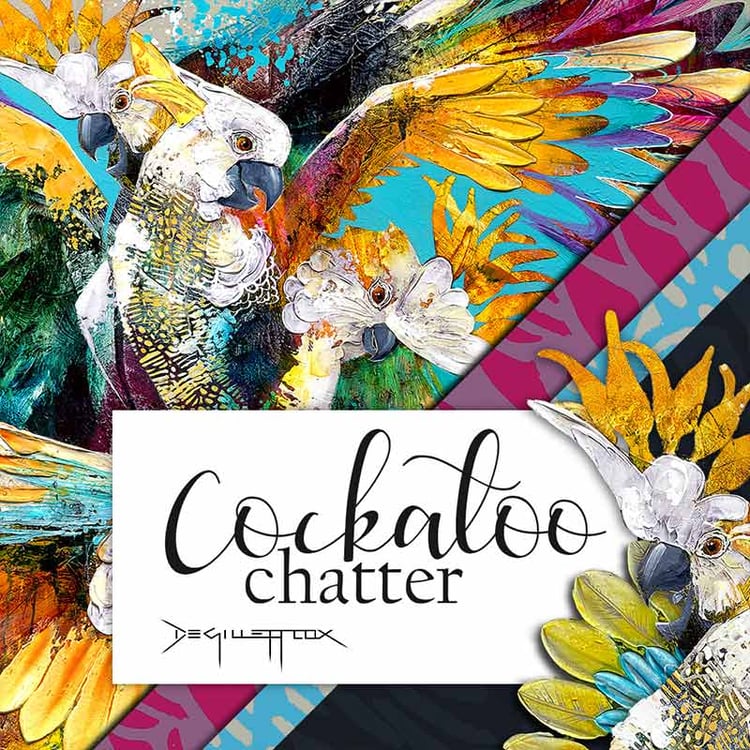 Take to the sunny Australian skies with our lively feathered friends the Cockatoos. Captured by Australian artist De Gillett Cox in her original paintings, the outrageously bold characters depicted within the collection "Cockatoo Chatter" will bring a new level of individuality to any creative project.