Boys will be boys, and finding the perfect boys fabric can be challenging. At Kennard & Kennard we know the lengths sewists go to, to find the perfect fabric especially when it comes to patchwork and quilting fabrics. In this blog we reveal an inspiring variety of boys fabrics that are sure to fire your project aspirations.
Jolly Jungle
Lions, Tigers, Birds and Slothes all belong to the Jolly Jungle range. Our collection of cute fabrics is sure to tickle your fancy. All we know is that Jolly Jungle, with its playful and soft coordinates is a simply adorable collection, perfect for boys and is a great way to decorate a room, sew a gorgeous quilt or even clothing.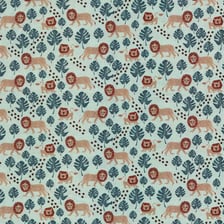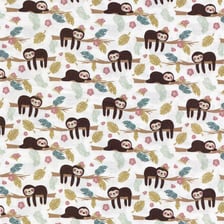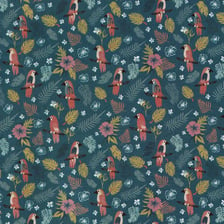 Designed by Annette Winter, Roaming the Mallee takes a step into the mallee regions of Southern Australia.

It features an abundance of Aussie fauna and flora including a pretty flannel flower design in fresh and earthy colourways. This collection is perfect for many projects for little boys, including a beautiful quilt, bibs, apparel or hats. The possibilities are endless!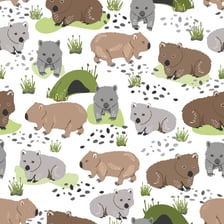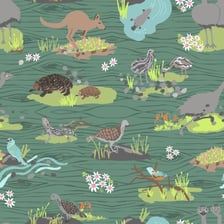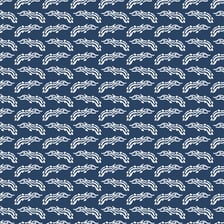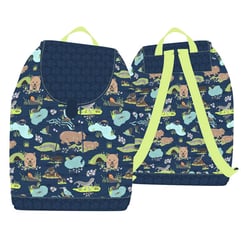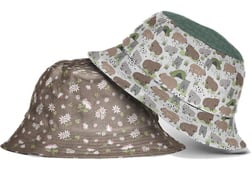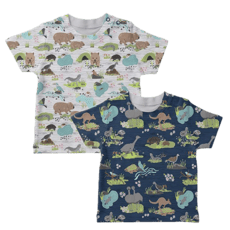 Designed by Benartex, this is a group where the coordinates are just as charming as the focal panel! You'll find flowers, precious words, tiny cows and trucks as well as geometric and allover prints. The prints are done in warm, earthy colours of red, deep green, ecru and black. The entire effect is warm and welcoming. Ideal for little pants or hats.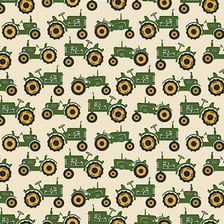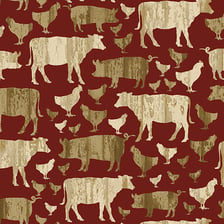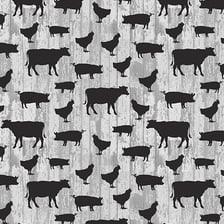 Wildlife Valley
At sunset in Wildlife Valley, a Kangaroo and her Joey are out to meet all the bush friends in the mountains. A pair of emus stride by, showing off their trendy hairstyles and dark plumage. Soon they all find their dear friends, the old Wombat and the cuddly Koala. The beautiful Kookaburrah is sitting in the old gumtree – merry merry king of the bush is he! – and the pretty pink gossiping Galah is there too.

Our wonderful Australiana friends would love to share their splits of laughter
with you.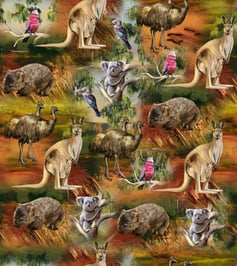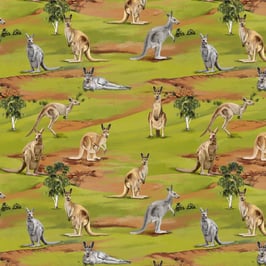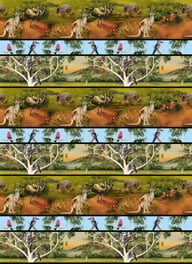 A Farmer's Fighting Spirit
Here's to all our hardworking Farmer Heroes who have that fighting spirit that keeps Australia going. Australian designer, Brett Green created a contemporary design featuring earthy colours of the outback with sheep, cattle, kangaroos, the typical Aussie shearing shed and more. This is as Aussie as it gets so create a cute t-shirt or pants for that adorable little man.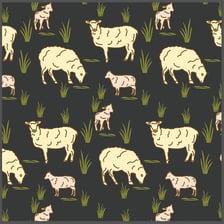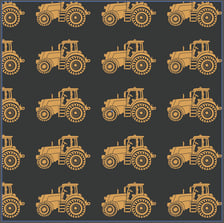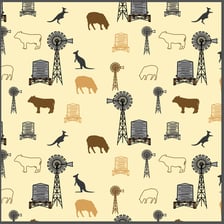 Remembering
This popular collection of Remembrance inspired cotton prints is a classic fabric collection honouring our heroic soldiers, who served and died in war and conflict. Designed exclusively by Kennard & Kennard, Remembering will be loved by all! We know you will enjoy sewing a cozy pair of pajamas for a young and courageous boy.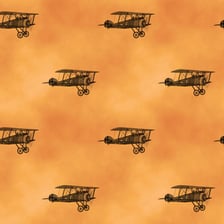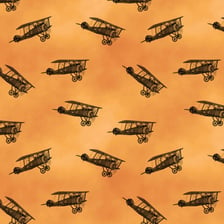 Check out our NEW Remembering Quilt Pattern
Farm Machines
This collection goes out to the men and boys that absolutely love tractors, i guess not only tractors, but farms. This would be excellent for a quilt, as there are five different panels that could be used and coordinates that will tie in perfectly.
Dirt Bikes
These dusty dirt bikes are idols to little boys. There's something about the thrill of a ride that is irresistible. It is every little boy's dream to experience the freedom and hidden joys of dirt biking. Use your imagination and treat the boy's with a quilt using the panel and it's coordinates.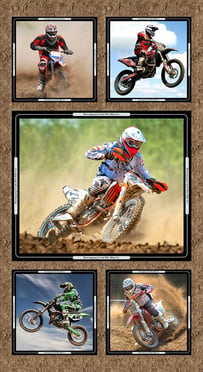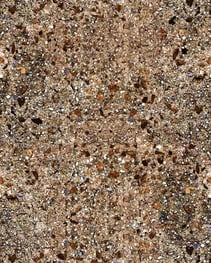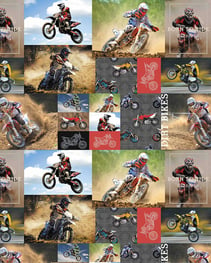 Wildfire Heroes
Does your little boy have a desire for firetrucks and helicopters? This collection honours the firefighters and their families for their selfless commitment and courage and for sacrificing their time and lives to fight for the safety of our people, our communities and our country. It honours the unmatchable Aussie Spirit of our heroes.
Imagine your adorable little man going around the a firetruck backpack or a helicopter hat.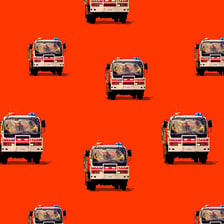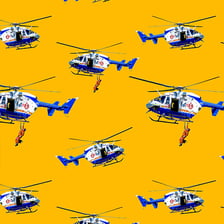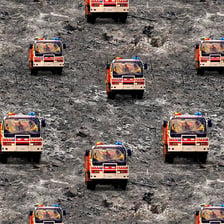 Soaring Heights
A wonderful collection that features five exquisite scenes with the hand-painted eagles. The panel is designed in such a way that allows it to be used "as is" or cut apart into five different boxes, for multiple projects. Coordinates include an eagle allover and some truly wonderful "nature" textures. Perfect for a boy's quilt, tshirt, hat, the list goes on....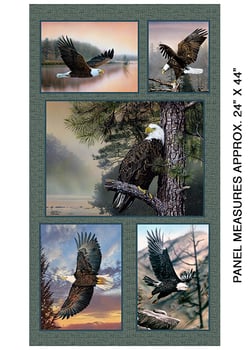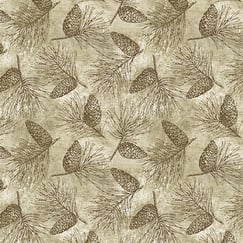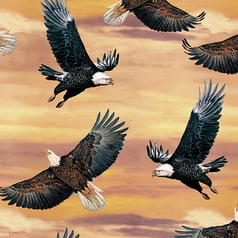 Burrangong Farm
The homestead with it's welcoming lights, big verandah and flower garden is central to the scene. The flourishing veggie garden complete with a scarecrow has pride of place in the backyard along with the Hills Hoist, rainwater tank, hay shed and tractor, and of course it wouldn't be complete without the kids jumping on the trampoline. This collection would be fantastic to make t-shirts, quilts, hats, backpacks and even pants.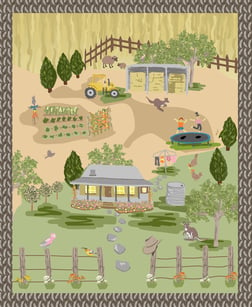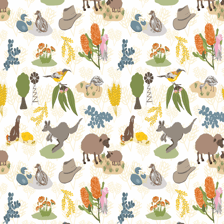 Wildlife Allover
Just look at those adorable little Aussie friends as they lay in the hot daytime sun. The fluffy koalas are clinging onto the tree, while the dingo lays peacefully on the hard Aussie dirt. The platypus swimming in the billabong, while the kangaroo is at a standstill. With a high quality thread count, this fabric is a collection of it's own. Perfect for everything boy's including t-shirts and pillowcases.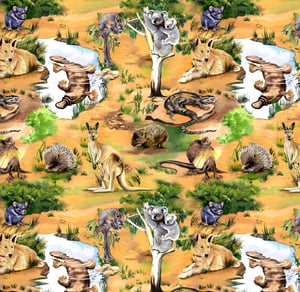 Hereford Stud
These cows grazing in the green fields are perfect for making apparel, quilts and pillows. THis fabric has been around since 2005 but has recently been re-illustrated. Check out the difference!!! It's so much more vibrant and cheerful. Ideal for the boys quilts and hats.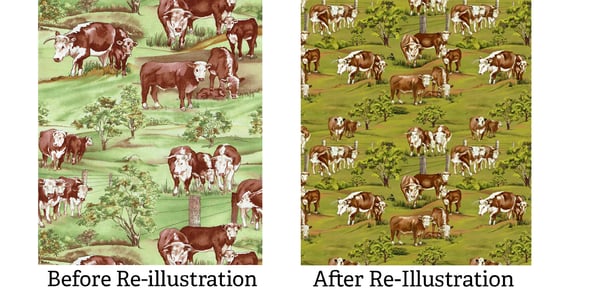 These Boy's Fabrics are 100% quality cotton with an even density, little to no stretch and excellent printing. With a fun range of on-trend colours and styles, you and your customers need not look anywhere else. You can see the difference with just one look or touch!
Love our fabric and are interested in ordering wholesale quantities? Register HERE so you able to see pricing and order online.
If your interested in wholesale quantities and are wanting to see samples, please don't hesitate to contact us on 1800 641 901