No matter how many Anzac quilts are created by Australian quilters, people will always appreciate quilts which honour and remember our Aussie Heroes. This is why we designed "Remembering" and here is the story of how our Anzac-inspired fabric collection began, perfect for patchwork and quilting.
The idea came from Adam, our wonderful warehouse manager! We were looking for new Australian designs and throwing around ideas, and Adam said "Why not do an Anzac range?" So it grew from there - and our design team put together an inspiration board of images and words which were Anzac-inspired.
The first panel designs were a bit odd. Nothing was flowing, the colours clashed and it did look messy. But that's how some of the most amazing designs do begin! Poppies were one thing which we knew was important so this is where it started.
Poppy artwork wasn't easy but we turned it into an amazing repeat of beautiful red flowers, detailed stems and a variety of background colours - black, cream or grassy greens!
Then we turned our attention back to the panel. The soldier silhouettes combined with dramatic colours of the sky and the bright sun worked well, and then the poppy field in the background brought the theme to life.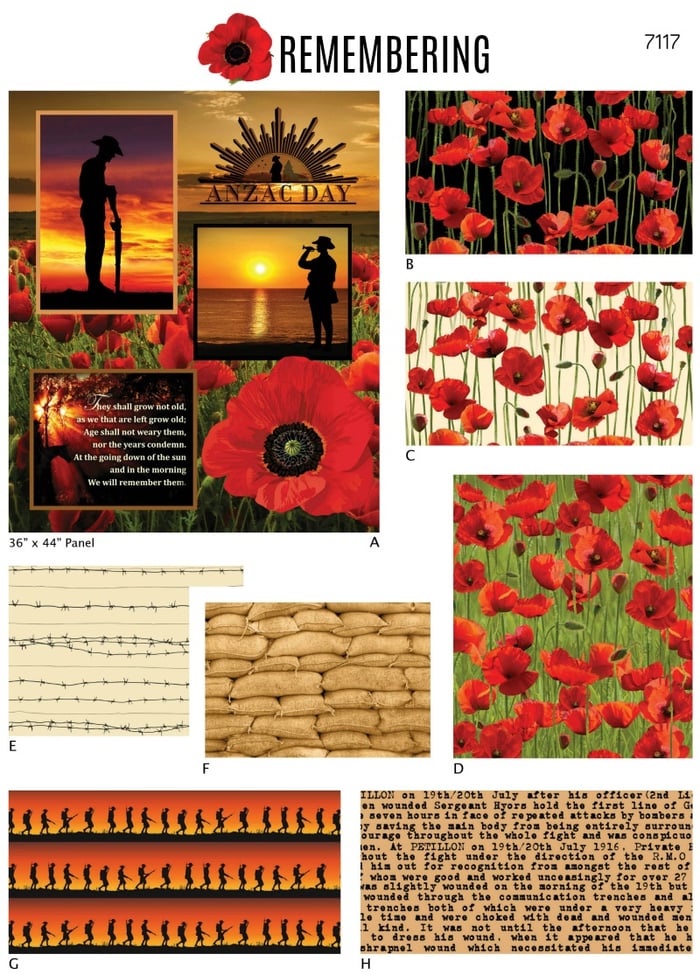 What Makes this Remembering Collection so special?
To give insight on how the fabric collection of Remembering was inspired and designed, these are the detailed stories behind each separate design:
Remembering Panel. Communicating the theme of the quilt was important when designing the main panel so it was important to use the silhouettes of the solders for our sewists to recognize the Anzac inspiration. The beautiful big red poppy

is

adopted as a symbol of Remembrance, hence our reason to include it on the panel.
Poppies. Realistic. Bright. Detailed. Contrasting. This is what we had in mind for our ultimate poppy design. The varying angles and colours of the poppy design brings Flanders Fields to mind at once. A coordinate which would complement the panel or to be used individually.
Barbed Wire. The Anzac-inspired Remembering fabrics wouldn't be complete without a design to reflect the harsh conditions experienced in the trenches, hence the reason for our barbed wire design. Our patchwork quilters can also use this cream fabric in the visual patchwork design.
Sandbags. Another inspiration based on the experience of the Anzacs in the trenches was sandbags. One of the more challenging repeats to design, it was worthwhile and the sandbags have been used in many a Remembering quilt we've seen.
Soldier Stripe. We didn't know how popular this stripe of marching soldiers would become! It sure does make a great border around a quilt. The line of soldier silhouettes against a dramatic gradient red and yellow sky ties in perfectly as a border around the panel or to represent a scene in a quilt.
Allover words. Thanks to the Kennard heritage we were able to use a clipping about a distant family member whose bravery on the Western Front in WW1 is described in the allover words design. Private Hobson was "singled out for recognition from amongst the rest of the bearers" and sections of the article are used in the fabric!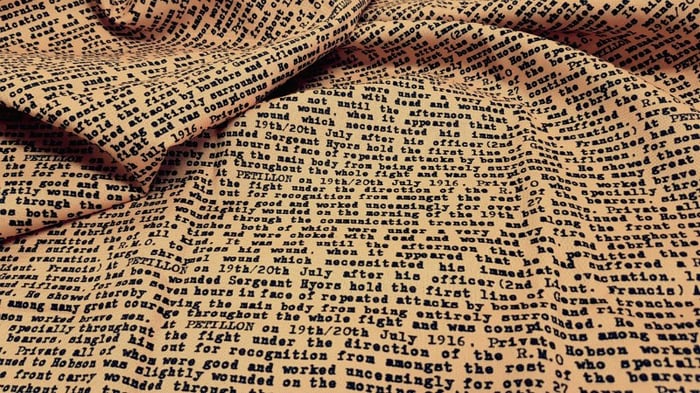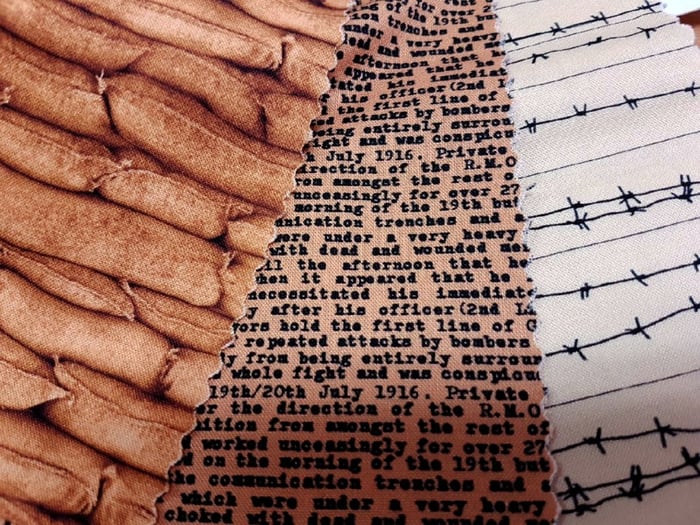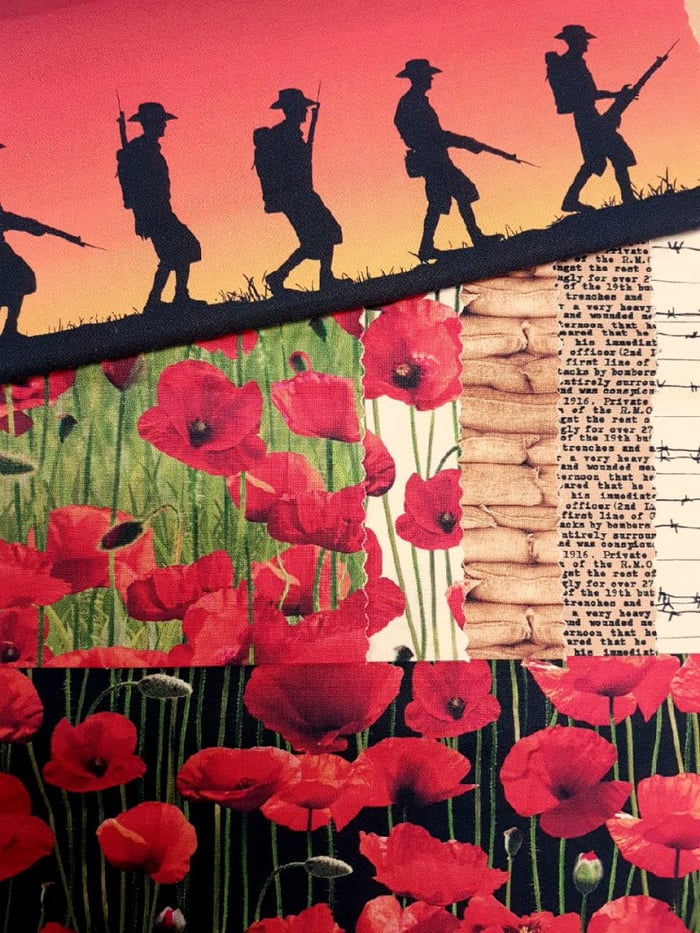 We came up with a quilt idea yet we've seen so many new and unique ideas would come from everybody else and we love seeing them! Have you got a photo of yours?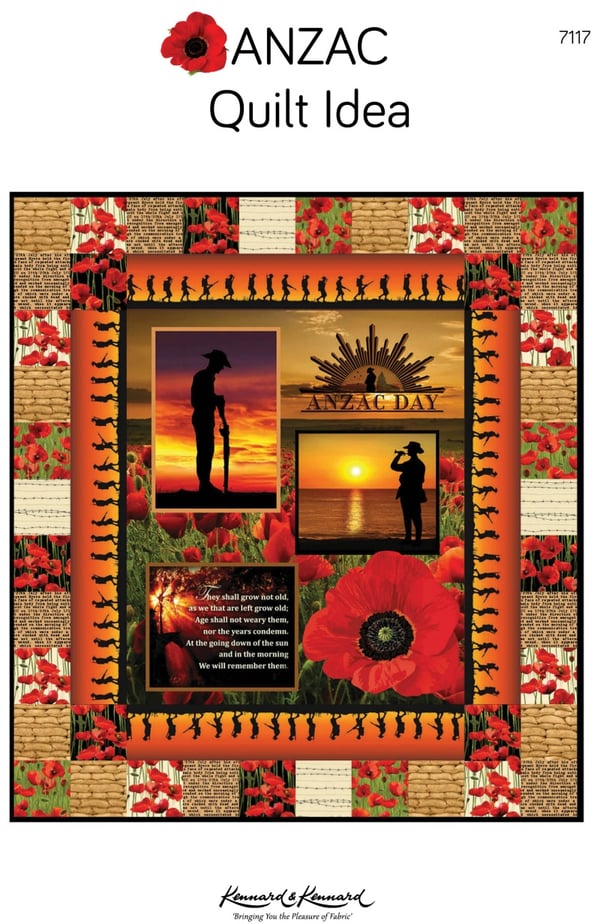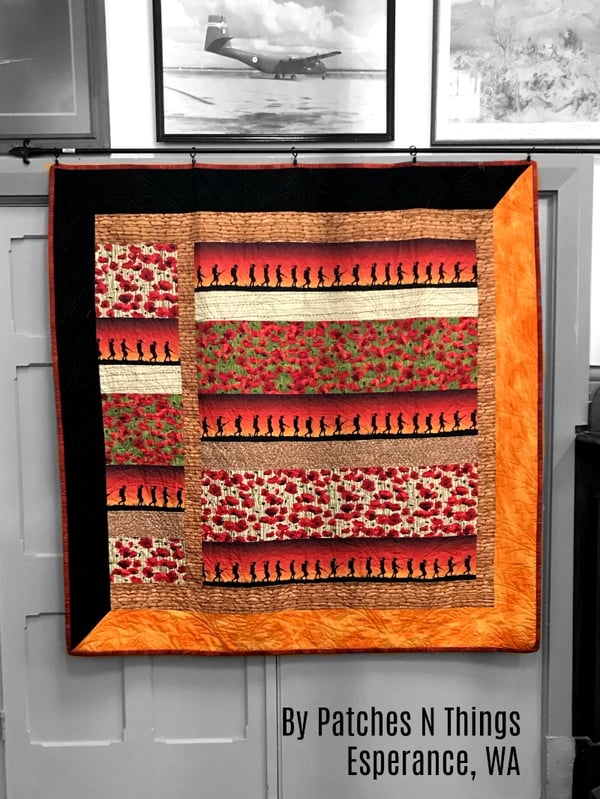 Photo from Patches N Things, Esperance WA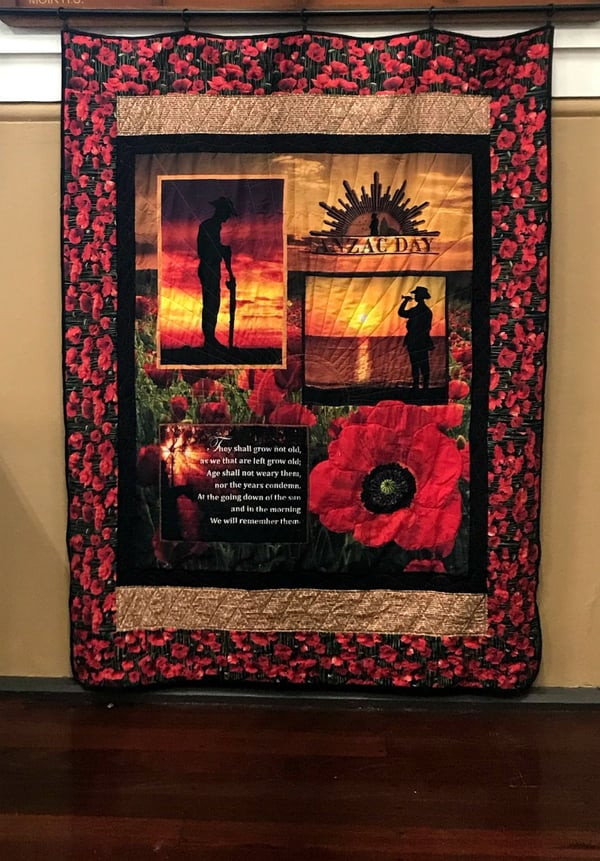 Photo from Patches N Things, Esperance WA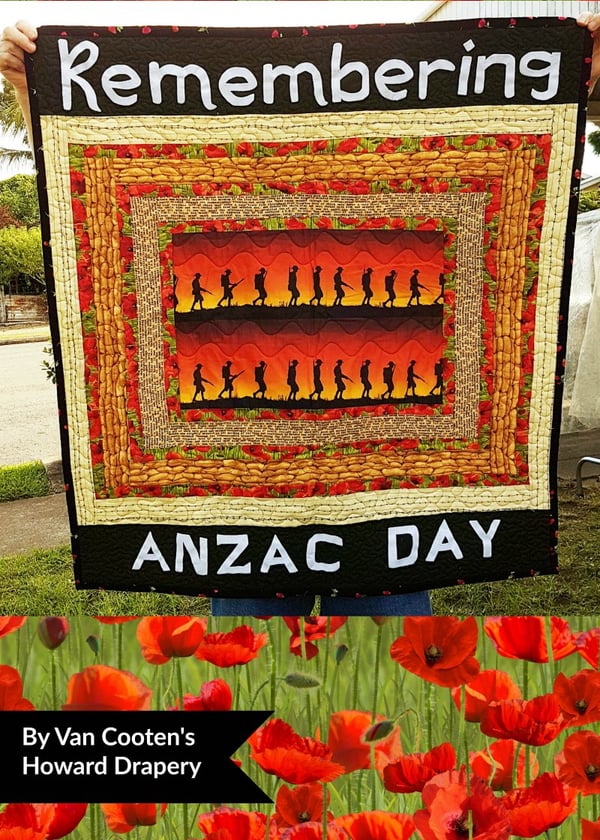 Quilt By Van Cooten's Howard Drapery, QLD
View the complete range online and order by the bolt today from Kennard & Kennard.
Not after buying wholesale fabrics by the roll or bolt? Get in touch with a stockist today
Feel free to contact us to discuss searching for a retail stockist. 1800 641 901.