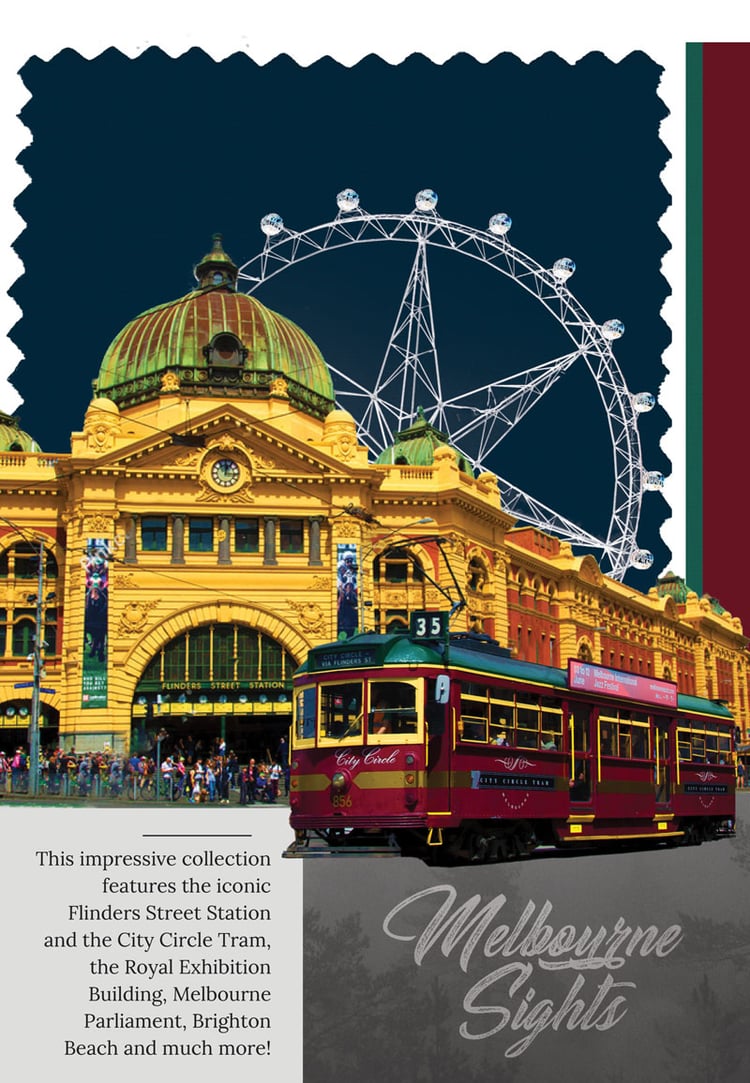 The Grandeur of Melbourne Sights, designed and put together by the team at Kennard & Kennard. Enjoy the splendour and impressiveness of this range, especially the fabric quality, appearance, colour theme and style. This impressive collection features the iconic Flinders Street Station and the City Circle Tram, the Royal Exhibition Building, Melbourne Parliament, Brighton Beach and much more!
A collection exploring the 'City of Living History'…Melbourne Sights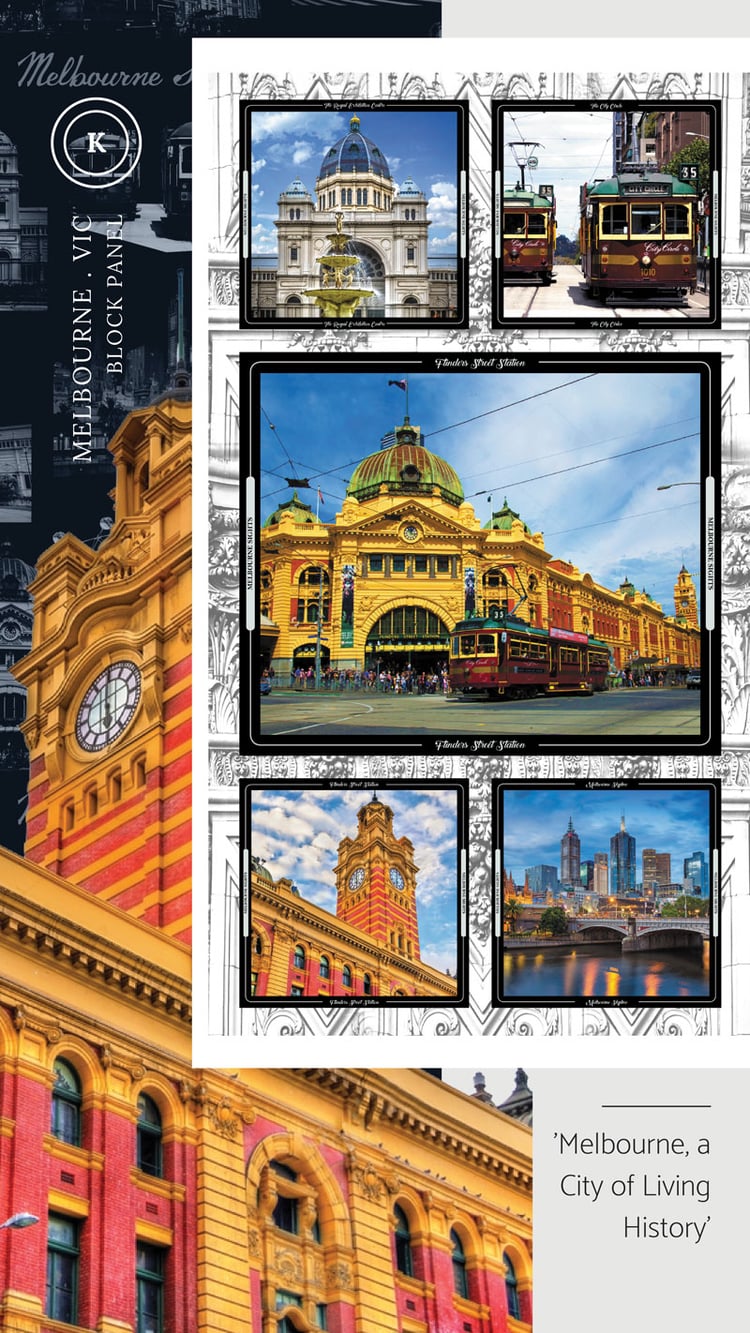 This 24" x 44" Inch panel 'K' pulls together some of Melbourne's most popular icons including Flinders Street Station, The Royal Exhibition Centre, Melbourne Skyline and the iconic City Circle. Bordered by an elegant old building scroll texture to enhance and emphasise the 'living history' that is displayed across the cities buildings.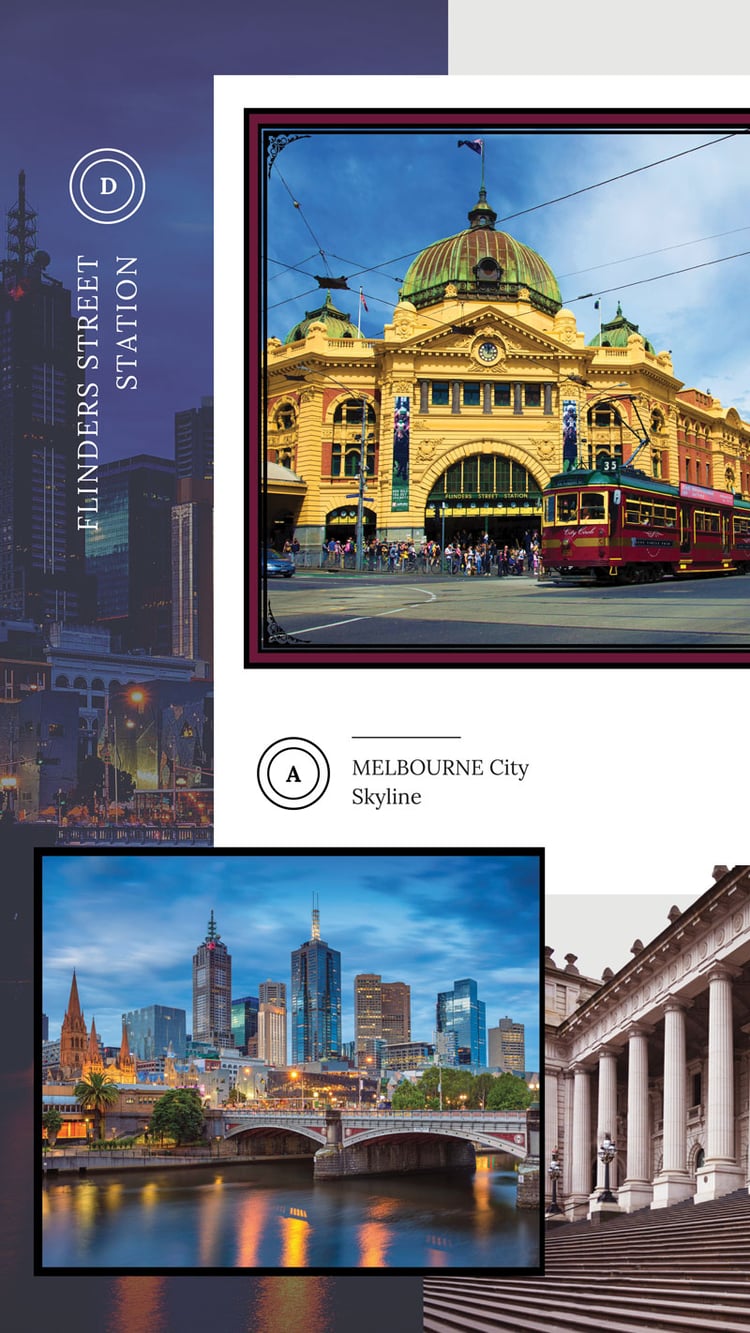 These two panels, 'A' and 'D' are popular sellers with panel 'D' Flinders Street Station being one of Melbournes most well known icons and panel 'A' a night skyline emphasising and boasting Melbournes title as the second largest city in Australia. If you're looking for ideas to take these to the next level imagine sparkling bead embellished Melbourne city skyline lights or a quilted Flinders Street Station to add depth. View full panels online.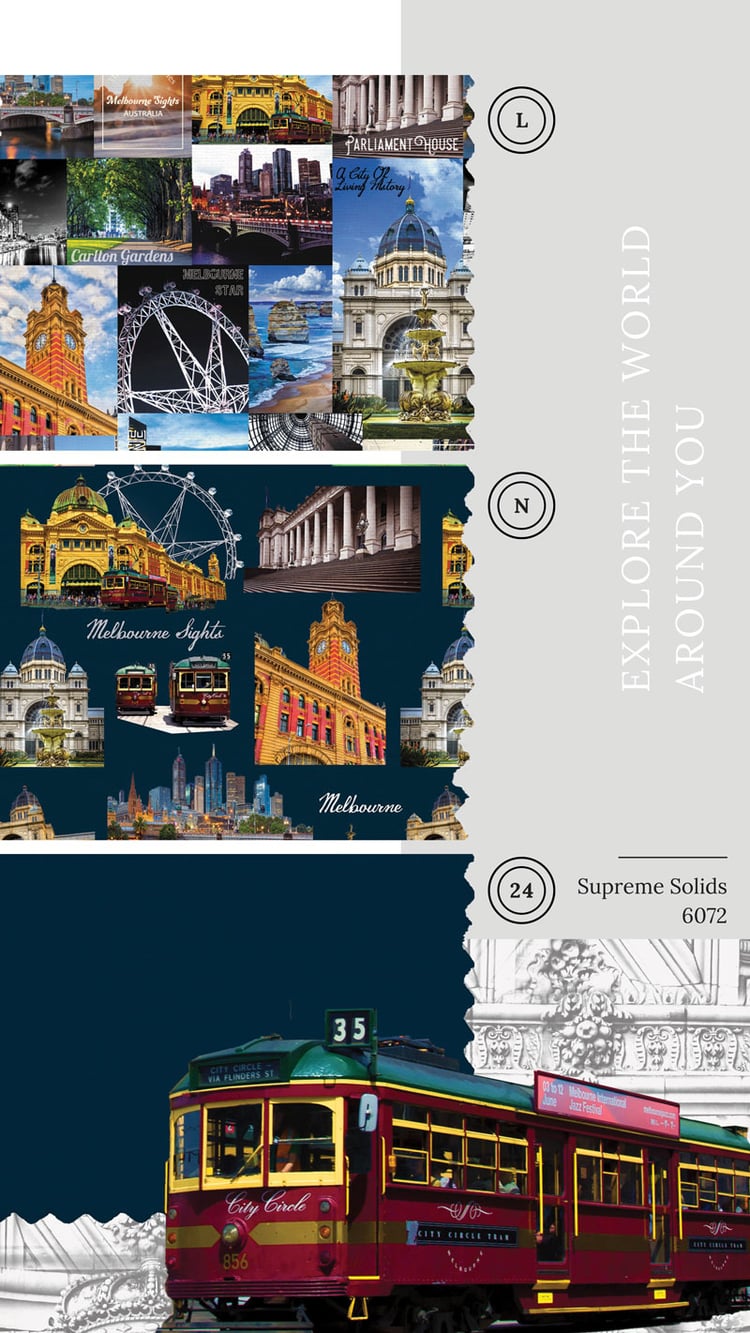 The Melbourne Sights collage 'L' and fussy cutting allover 'N' are popular coordinates featuring a range of Melbourne icons including the Melbourne Star, Parliament House and Royal Exhibition Centre. Coordinate 'N' has been designed to allow each icon to be cut out and used to applique onto your quilt or other project. *View scale an measurements online. We have also picked out a navy (6072/24) from our Supreme Solids range after matching it as a perfect coordinate for this range and blends in beautifully with the collection as a whole.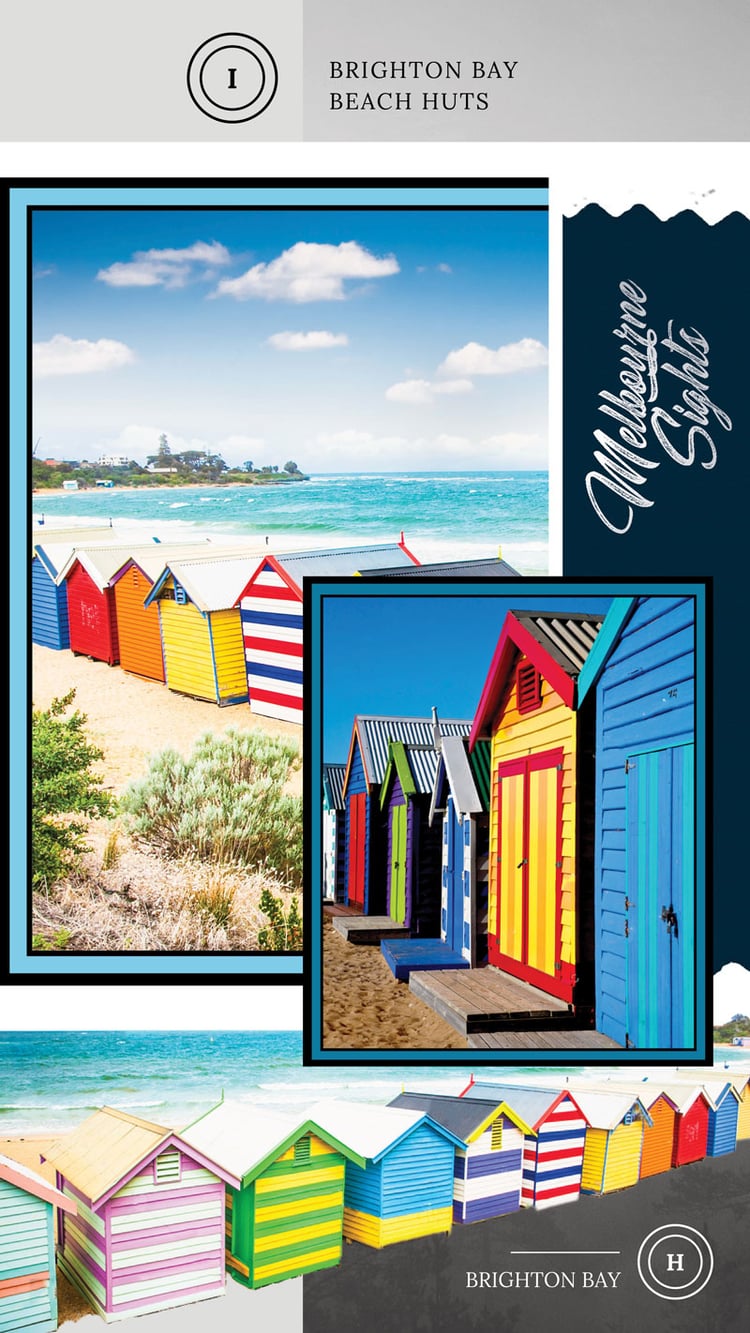 The instantly recognisable Brighton Beach huts are certainly a favourite in this collection with their array of vibrant, eye-catching, summery colours. Sitting on the spotless sand with views of a beautiful blue Brighton Bay, their vivid colours provide a unique sense of place and occasion. Panels 'H' and 'I' are a large 36x44In size. View the full panel spread online.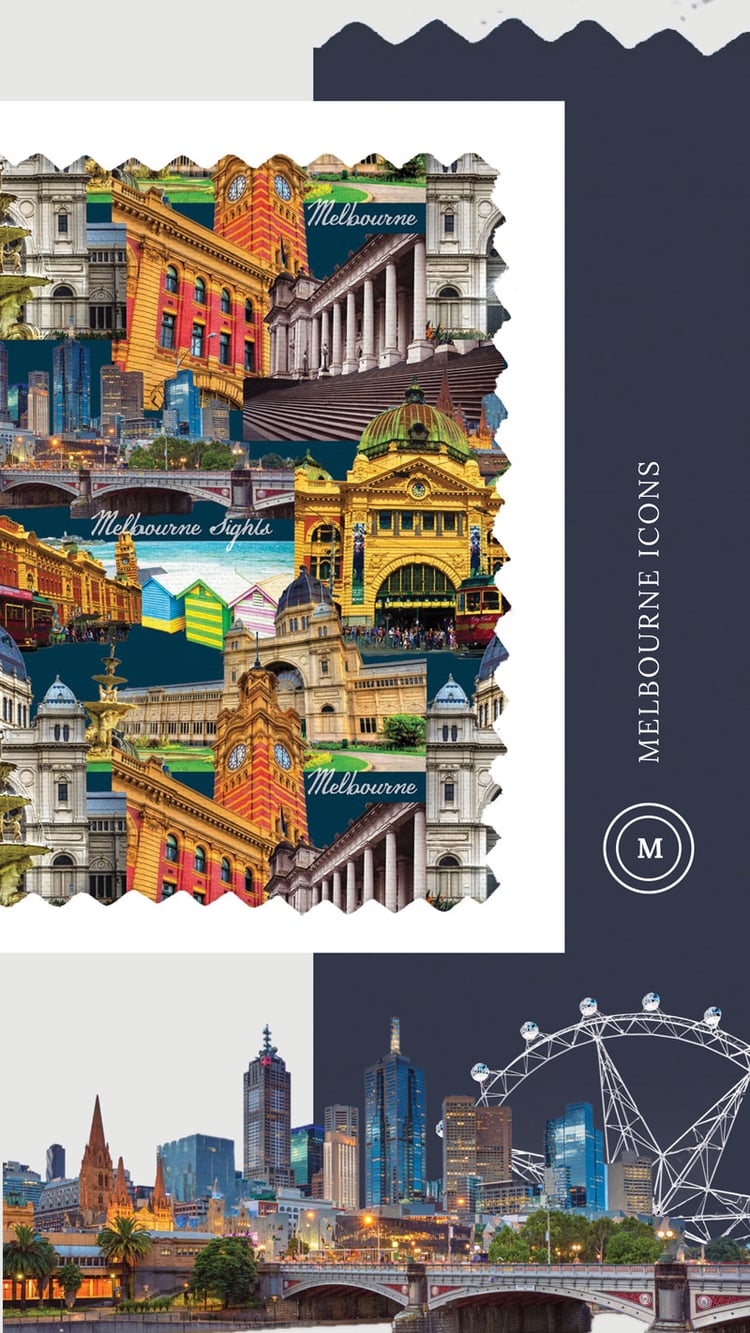 'M', a coordinate with a contrast of bold vibrant and rich deep colours all twisted into a scattered, overlapping montage of Melbourne. Also works beautifully used in apparell, quilts and can be suited to many other projects. This is definitely a favourite and ties in beautifully as a coordinate with the rest of the collection. View scale an measurements online.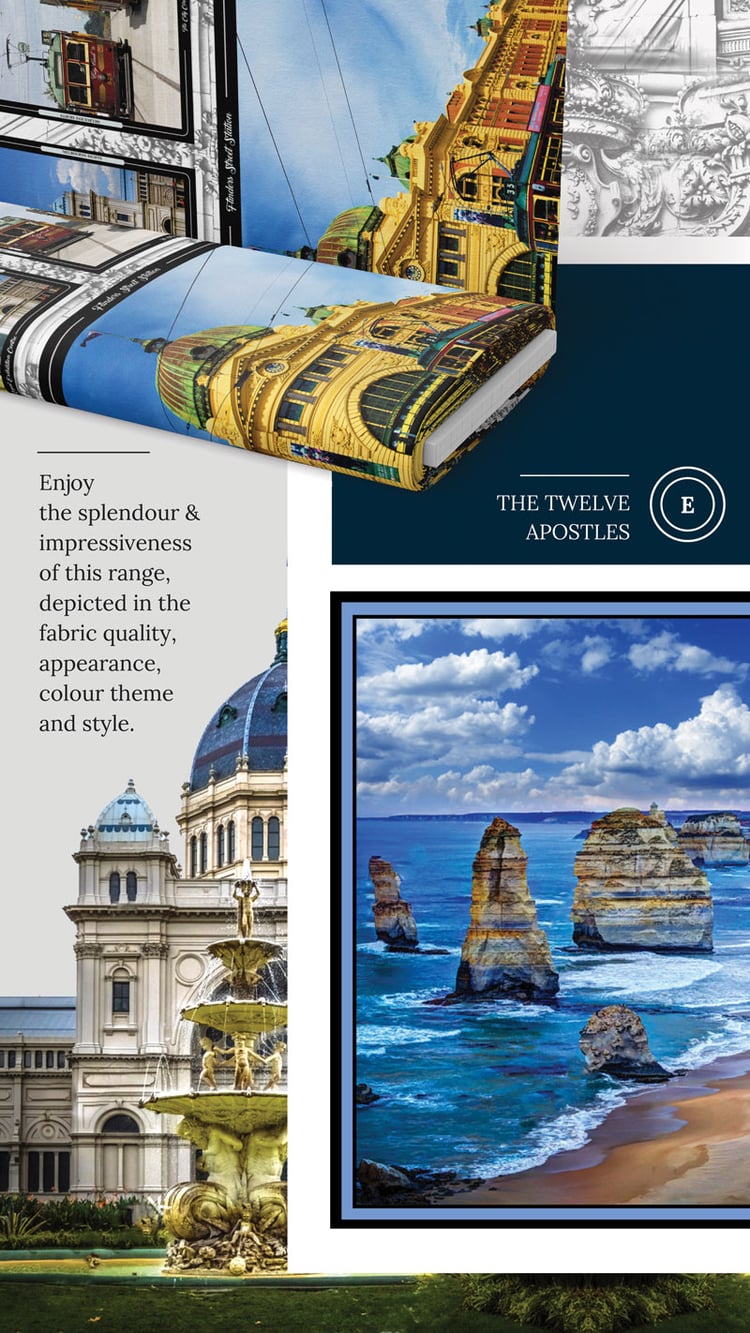 Just west of Melbourne, standing by the Great Ocean Road in Victoria is a beautiful, natural tourist attraction that cant be forgotten. The Twelve Apostles. So here we've included them in all their rugged splendor, golden cliffs and crumbling pillars into an 36x44In panel 'E' in our Melbourne Sights collection. View the full panel online.