Have you ever tried browsing through a store that is dull, cluttered and cramped? Did you feel frustrated or disconcerted? How many times have you left a store frustrated because you couldn't find what you were looking for due to messy unorganised shelves. A gloomy, cluttered store is not at all inviting to customers and makes it hard to find and choose the right fabrics. Whether you are running a handmade business or a patchwork and quilting store you will find these five steps useful.
What does your fabric shop look like?

Ensure your customers have a pleasurable experience shopping at your fabric store. As online stores increase the need of good quality retail shopping experience is imperative. Need help to spruce up your store?
Here are five tips to get you started:
1. Eliminate messy fabric arrangements.
With cluttered displays such as this picture above, your customers will find it difficult to see your variety of beautiful prints. This will also make it hard to take it from the shelf. Fabric rolls stacked on top of each other also tend to become shadowed from the light and seem less appealing. Displays like this won't show the amazing variety of prints, colours and supreme quality fabrics you stock.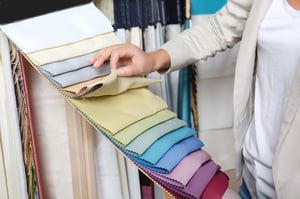 Stop cramming fabric! Do this by creating swatches that your customers can browse through with ease. This way they are able to explore your fabrics without having to deal with the whole roll. Using swatches will also help eliminate the need for so many rolls to be out on display. This will reduce clutter and confusion in your store and make your customer's shopping experience pleasurable and memorable.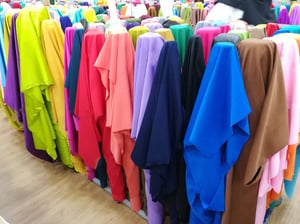 Here is an idea for displaying your fabric rolls neatly. By doing this you can hide away any ugly roll ends that often make a store appear shabby. These stands will ensure your fabrics are easily accessible, allowing them to stand in the light to reveal their beautiful colours and supreme quality.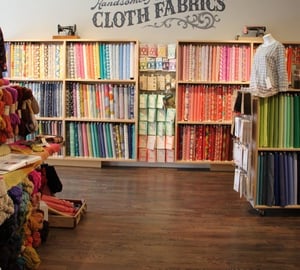 Here in this neat, organised store the fabrics are arranged vertically across a wall shelf. A wall shelf is less expensive, a way to keep your fabrics organised and occupies less space. Storing bolts vertically can help eliminate toppling fabric stacks and will enable you to keep your bolts in a neat, tidy manner. This arrangement will make it easier for your sewists to browse through your fantastic range.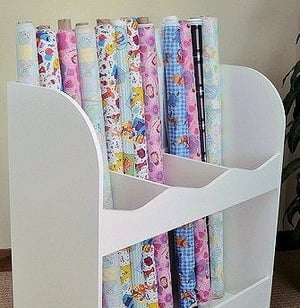 Try a rack like this to organise and display your fabrics rolls. Customers will then be able to easily flick through and find what they are after. Racks like these also help to organise your fabrics into colours, styles, ranges etc. which is the next step to maintaining your neat retail fabric display.
2. Keep your fabrics organised and easy to find.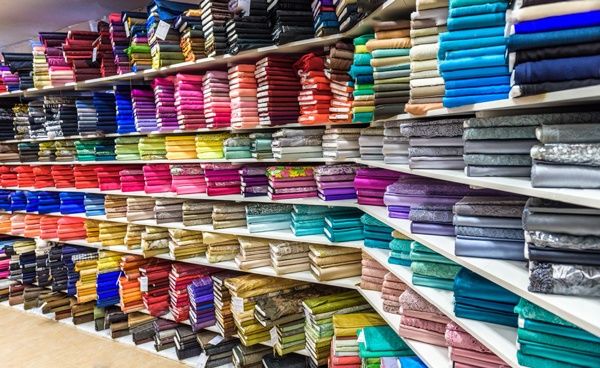 A well organised store makes its simple for your customers to search for desired fabrics. This display shows fabrics arranged by colour. In doing this, you can also add in some suggested coordinates that can help the customer to be persuaded into buying more - Ta Daa! You have just created another opportunity for a sale. Almost like a website your display can suggest fabrics the customers 'may also like'.
There are a number of possible ways you can categorise and arrange your fabrics. Colour, pattern, theme, texture, composition, width, collection and designer.
3. Inspire your customers!

Decorate your store with your creations and ideas to show off how your fabrics can be used. This is one of the best ways to convince your customers that they should buy the fabric. Through these you can also suggest fabric coodinates and types of projects that the fabric would be suitable for. Dress mannequins, display your quilts, even quilt pattern instructions and lay out your best projects.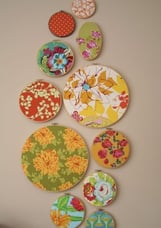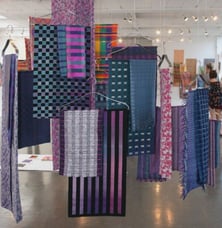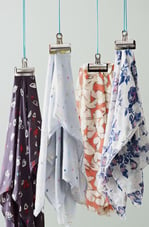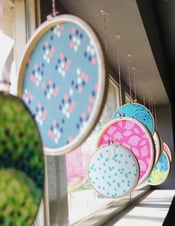 Think up some innovative ways to have your fabric collections on display and create an amusing environment your customers will love shopping in. By doing this you will certainly be giving your customers a memorable experience so they become repeat buyers.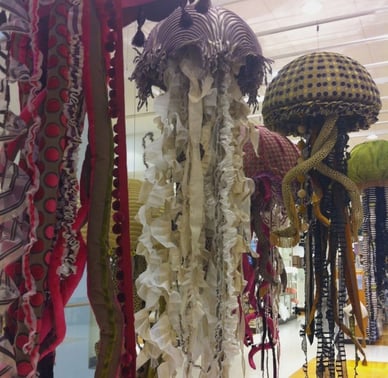 Don't just dress a mannequin. Create something different and captivating. Different and innovative attractions like these (pictured left) will grab attention and effectively display your fabrics in a fun way your customers will be fascinated by. Make it memorable!
4. Keep your store bright and alive.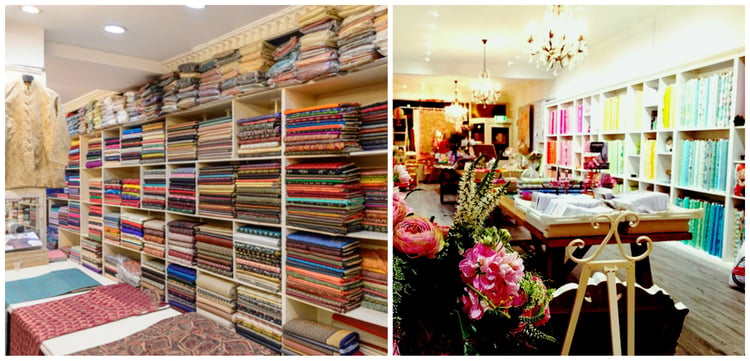 A bright store means bright vibrant fabrics and a happy atmosphere! Light up your fabrics to show their true rich colours and catch the eye. A warm, bright store with a friendly appearance will help draw in window shoppers. An attractive shop front is also key to luring customers, which is covered in the next step.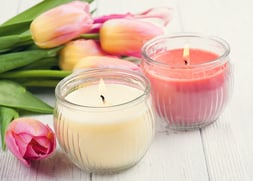 Have you ever walked through a store with strange musty smelling fabrics? Unpleasant. Give your customers an enjoyable experience by livening your store up with an irresistable smelling candle or fragrance diffuser to make your store smell homely and clean.
5.Have an attractive shop front.
Visitors to shop fronts need to be able to see what they are looking for. Make it clear what your store sells by listing what you do/sell and creating an effective display in your shop front. Display your most popular fabrics and attractive projects to persuade your customers to buy. Hang your quilts in the front window to show off what they can achieve with your fabrics. Ensure the front of your store is bright, tidy and well arranged with fabrics and inspiration as a good first impresson is key to gaining new customers and drawing them in. Cutomers will walk into a well lit store front and feel welcomed at the very first step inside.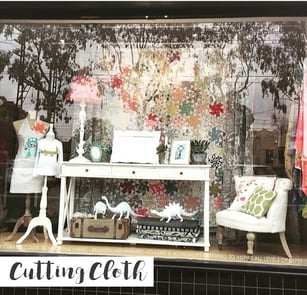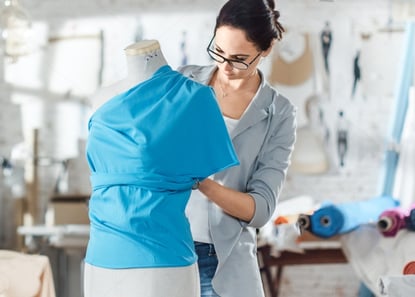 Cutting Cloth Australia

There you go! The top five tips to creating and maintaining an effective retail display. You'll find the benefits outweigh the costs and realistically you will see fewer lost sales due to the effort you put in to maintaining a clean organised store. Ultimately you will sell more fabrics!

REMEMBER!

- Keep your fabrics well organised and tidy


- Eliminate clutter with swatches, stands and shelves
- Keep your store well lit and fresh
- Ensure your fabrics are easy to reach and browse through
- Show off your gorgeous projects and inspire your customers!


Ready to fill up your shelves?