---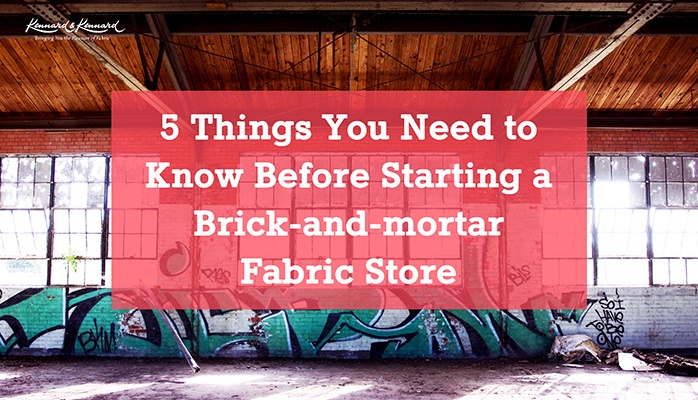 Starting your own fabric store business is one of the key ways to take your passion for fabric and turn it into a thriving business. To succeed in business individuals need a whole lot of flexibility, planning and organisational skills – not to mention plenty of avid customers looking to purchase your products and services. In this article, we explore the 5 things you need to know before starting a brick-and-mortar fabric shop so you can live your dream of running a financially viable and thriving retail store.
1. What products and services you are going to have
Set up business relationships with your fabric suppliers so you can order quilting and patchwork fabrics wholesale, as well as other essential supplies such as patterns, haberdashery, threads and quilt backings. Follow a designer and keep your style consistent. You will be passionate about your products if you are passionate about the style. While you might have a solid understanding of a wide range of things when it comes to fabric, know your taste of style rather than being a Jack (or Jill) of all trades. Will you stock unique fabrics, basics, quilt backings or a selection of all? Will you offer a quilting service? Are you going to run classes and 'How-to' sessions? Think about what you want your store to provide and how you will engage your clients with your services and products.
2. Find employees with a passion for fabric
Your staff are the face of your fabric business so for best results you will want to find individuals with a passion for patchworking and quilting and that have experience ideally. Ensure once you have engaged all of your new retail team you train them in sales and they are across all of the systems for your business. Consider creating an employee manual and regularly review all staff processes. Setting up a 'mystery shopper' program can also provide valuable feedback on the customer experience.
3. Source quality products and merchandise
In the patchwork and quilting world, quality is everything and you should ensure you choose stock and products that are of the highest quality. Source suppliers that have a reputation for quality so you sell fabric in your store that is backed by a guarantee of quality. Compare cheap patchwork fabric with the premium brands to feel the difference in handle of the fabric. Is it easy to cut or does it stretch out of shape? When you hold the fabric up to the light, is the weave loose and thin or is it closely woven with premium quality yarns?
Retail fabric stores often stock larger, big ticket items including sewing machines. If you are looking to stock these items be sure to have a chat with the sewing machine suppliers to see if you can be a stockist.
4. Social media is king – make sure your audience can find you on social (Instagram, Facebook, Pinterest, G+)
Whether you're tech-savvy or not, these days an essential part of a business is to have an online presence. Set up a basic website with an online store for customers that are unable to make it into your physical shop front. You should always keep your online store up to date including any specials you're having in-store and also have a fast and mobile optimised website to ensure the best user experience for your customers. Also, set up your social media pages on Facebook, Instagram and Pinterest and ensure you are adding fresh content on a regular basis. Your posts should be targeted to specific groups, have personality, tell a story, be interesting, informative and inspirational. For example, get a photo of the stock arriving, then message about how excited you are to open the boxes and to get the new lines on display.
5. Create a personality – make your brand stand out.
Many successful retail stores plan their businesses right down to the finer details and weave in their brand personality into every element of their business, and your fabric shop should be no different. Create a personality for your brand and ensure you keep your vision, style and point of difference in mind and consistent in every area of your business.
---
If you're starting up a new fabric store and you're looking for a wholesale quilting and fabric supplier that provides patchwork and quilting fabrics to suppliers and retail stores across Australia, speak with the friendly team from Kennard & Kennard today.
Kennard and Kennard have been an iconic wholesaler in the textile industry for over 60 years and are a top supplier of quilting and patchwork fabrics for businesses across Australia. Get in contact today to have a chat with our experienced team to find out more tips on how to start a fabric retail business or for advice on our wholesale fabric range.
---